Nikos Kafkas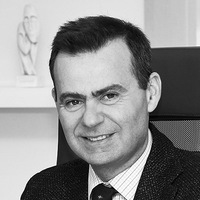 Nikos Kafkas
President and Managing Director, V. Kafkas SA
Nikos Kafkas
He was born in Athens in 1973. He studied Economics at the Athens University of Economics and Business (AUEB). He continued his studies at the University of Strathclyde, where he obtained an MA in Business and Management.
He quickly gained professional experience working at the family business, V. Kafkas SA, where he currently serves as President and Managing Director.
The Kafkas company was established in 1975 and holds a leading position in the areas of electrical equipment, lighting, building technology products and energy management solutions. It has a modern network of 70 shops in Greece and Cyprus and 2 state-of-the-art electric panel manufacturing plants in Attica and Thessaloniki, employing 970 people.
He has been a member of the General Council of the Hellenic Federation of Enterprises (SEV) since 2016, while he has also served as President of FEGIME, the European group of electrical equipment wholesalers, which is active in 19 European countries, with 250 wholesalers-members and more than 1,300 electrical equipment shops.>