Yiannis Syrros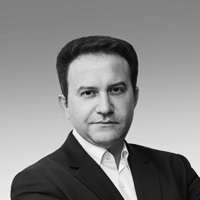 Yiannis Syrros
Principal, Deloitte Consulting Advisory Services team
Yiannis Syrros
Mr. Yiannis Syrros was for over 20 years the General Director of the Hellenic IT and Communications Business Association (SEPE), while from 2022 he holds the position of Chairman Emeritus of the World Innovation and Technology Services Association (WITSA), whose members represent 90% of the global IT and Communication Technologies market.
He has also been a Digital Technology Advisor for Information Society issues at the Ministries of Economy and Finance, Health and Welfare, Internal Public Administration and Decentralization and at the Ministry of Transport and Communications. He was member of the Training Committee for the design of the Operational Program "Information Society" within the framework of the 3rd CSF, while at the same time he participated as an expert of the European Commission for the evaluation of proposals within the framework of the 5th RTD Framework Programme.
He holds a degree in IT Engineering, with postgraduate studies at the Universities of East Anglia and Hertfordshire, in the subjects Information Systems and Management, respectively.