Nikolaos Nikolaou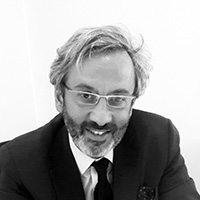 Nikolaos Nikolaou
Board Member at Label Pack SA and CEO at Taxiplon SA
Nikolaos Nikolaou
Nikolaos Nikolaou was born and studied in Athens. He graduated from Leonteios High School and studied Business Administration (BSc) at the American College of Greece (Deree). He continued with postgraduate studies in London, at the University of Westminster, where he obtained an MA in International Business and Management.
In London he got into the real estate market and founded his first company, active in the sales and valuation of industrial real estate and hotels. In Greece he has participated in companies active in the food business franchising (Domino's Pizza), but also in the banking sector, while he also served as franchisee and executive at Eurobank OPEN24.
He taught business administration at the University of Wales annex in Greece for 5 years, while he continues to give seminars in entrepreneurship and business adaptability. He also participates in crowdfunding platforms as an investor.
He is currently a Board Member at Label Pack SA (real estate company) and is the CEO at Taxiplon SA.
He also teaches the Leadership and Management module at the Executive MBA of the University of Bolton at New York College.