Nikos Karamalengos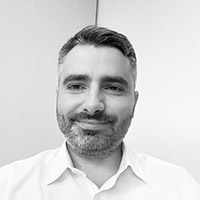 Nikos Karamalengos
Senior Consultant at Planet SA and an experienced banking executive.
Nikos Karamalengos
He holds a degree in Chemical Engineering from the National Technical University of Athens (NTUA) and a degree in German Language and Literature from the National and Kapodistrian University of Athens (EKPA). He has also participated in a Project Management training programme at EKPA.
He has been involved in the banking sector since 1998, initially as an Attica Bank employee and then as Senior Consultant at Planet SA, a position he holds to date. During his time at Attica Bank, he worked in various units, gaining an overview of the operation of a banking corporation, but also of the development and support of Greek entrepreneurship.  He started off at a branch, in the deposits and business loans departments. He then worked in the Medium and Large Business Credit Division, and then at the CEO's office, as a Project Manager for major projects relating to the updating of the Bank and the management of supervisory and other audits.
As a Senior Consultant at Planet SA, he has supported the PMO of systemic bank units, in projects relating to preparing for and conducting supervisory audits, and the compliance of banks to these findings.
He also writes articles, and in the last year he writes for Protagon.gr.