Gelina Koukoumeli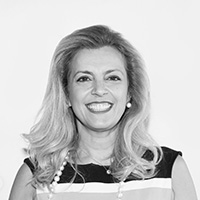 Gelina Koukoumeli
Marketing Director at Kri Kri SA
Gelina Koukoumeli
Gelina Koukoumeli is currently the Marketing Director at Kri Kri SA. She completed her studies in Business Administration and Marketing at Deree, the American College of Greece (1984-1988).
In 1988 she embarked on her career at the Commercial Department at Toshiba Office Automation. In 1990 she worked at the Acuvue contact lens department at Johnson & Johnson Hellas. In 1992 she moved to Nestle Hellas as Brand Manager for baby food, Nesquik and milk, and as Group Brand Manager for Maggi and Korpi water. In 1999 she worked as Marketing Manager at Kraft Foods Hellas, in coffee and food, and as Marketing Director for the entire Greek business (Jacobs, Kraft Mayo, Philadelphia, Lacta, Pavlidis, Merenda).
In 2006 she took on a multinational role as Area Marketing Director at Kraft Foods Europe for Italy and Greece. In 2008 Gelina Koukoumeli moved to Creta Farms, as a Marketing VP responsible for Greece, America and Spain. In 2010 she took over the marketing for EJ Papadopoulos SA for Greece and abroad.
In 2015 she changed her area of expertise and was appointed Operational Director at the Lambrakis Group, responsible for the marketing, creative campaigns and customer relations of the commercial division. She is an active Board Member at the Hellenic Advertisers Association (SDE) and the Council of Communication Control (SEE).