Dr George Xirogiannis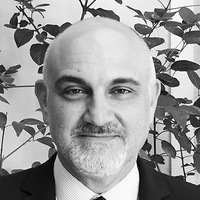 Dr George Xirogiannis
Director General, Hellenic Federation of Enterprises (SEV), and CEO, Stegi of Greek Industry
Dr George Xirogiannis
He is a Director General at the Hellenic Federation of Enterprises (SEV) and the CEO of the Stegi of Greek Industry, the research branch of SEV. He is also Vice Chairman of the International Relations Committee at BusinessEurope, registered in Brussels.
His portfolio at SEV includes issues that relate to industrial policy, growth strategies, investments, innovation, digital economy, regional development and cross-border trade.
In the past, he has worked as a Senior Manager at PricewaterhouseCoopers (PwC). He was responsible for Strategy and Operations, and the Government and Public Sector industry. He has headed several flagship projects in Greece and abroad in the financial sector, telecommunications and public administration. He started his career as an IT consultant.
He has taught undergraduate and postgraduate classes at the University of Piraeus Department of Informatics and the University of the Aegean Department of Financial and Management Engineering. He has also served as Board Member at Aegean Technopolis, registered on the island of Chios.
He has written books and articles on modern entrepreneurship. His extensive research findings have been published in international journals, and he has have given speeches on Artificial Intelligence at international conferences.
He holds a PhD in AI from the Department of Electrical Engineering, Heriot-Watt University, Edinburgh, and an MSc in AI from Bristol University. He graduated with a degree in Mathematics from the University of Ioannina.