Angelina Michaelidis-Vasilakopoulou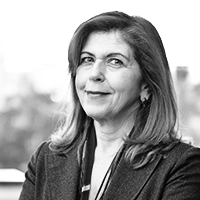 Angelina Michaelidis-Vasilakopoulou
She combines the experience of a senior executive with the professional training sector.
Angelina Michaelidis-Vasilakopoulou
Angelina Michaelidis combines the experience of a senior executive with business development within the professional training sector, by carrying out seminars, lectures and hands-on workshops at public and private institutes. She has 10 years of experience in C-level executive positions, after a successful career in commercial roles, mainly in ICT. She has been assigned positions related to new business development, project management, sales management and negotiations. She excelled in creating the commercial strategy at prime employers, such as IBM, the SIEMENS Group, WNI, Hewlett Packard, NCR etc. Her main areas of expertise are retail, bancassurance, FMCG, healthcare, and e-Government. 
She studied applied mathematics at the University of Athens, holds certificates in administrative skills, and has attended the corporate ALBA MBA and Harvard Business course in sales management, etc. She is an ICF certified coach. She has been a Board Member of the Hellenic Management Association (EEDE), President of the Women Managers & Entrepreneurs Section (TOGME), a Member of the Association of Chief Executive Officers (EASE), a founding member of the National Committee of Entrepreneurship & Innovation, a Member of the Global Board Ready Women Group initiated by the Financial Times, and a Board Member at the Hellenic Institute of Customer Service (EIEP).