Evangelos Tsaras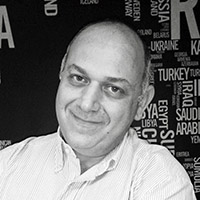 Evangelos Tsaras
Shareholder and CEO at Cicero SA advertising agency.
Evangelos Tsaras
Evangelos Tsaras started his career in the area of political communications. Specifically, he worked as an Advisor at the Hellenic Foundation for European and Foreign Policy, on international relations and crisis management issues, as well as the City of Athens Press Office. He then joined the multinational advertising agency Leo Burnett, in the Customer Service Department, where he was responsible for its strategic communication and development, both to multinational and domestic clients, such as the Olympic Games Organising Committee, Piraeus Bank, OTE SA, Kellogg's SA, Procter & Gamble SA and Fiat Auto Hellas SA.
He continued his career at Vermantia, as Corporate Development Director, mainly responsible for the development of the company and the management of corporate relations with clients and the Media, both in Greece and abroad, in countries where the company operates (UK, Italy, South Africa, Latin America). As of 2016, he is a shareholder and the CEO at Cicero SA advertising agency.
He holds a degree in Political Sciences and International Relations from the National and Kapodistrian University of Athens and an MA in Communications Policy Studies from City University of London.