Nikos Christakis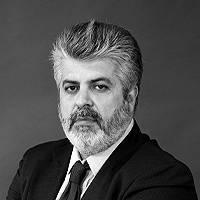 Nikos Christakis
Managing Director of HP Inc. for Greece and Cyprus
Nikos Christakis
Nikos Christakis, with a 30+ years of executive presence in IT, more than 16 years in HP Inc, is the Managing Director for Greece and Cyprus since 2018. Well known for his multi-year cooperation with international vendors/local channels and his skills in enabling trusting and fruitful partnerships.
He is fully engaged in an ambitious vision for HP in Greece: to have a long-term impact and make a difference in Greek society. Under his guidance and visionary leadership, HP Greece is engaged in a variety of initiatives, ranging from education children healthcare to refugee support and digital transformation.
Nikos is himself an active member across a multitude of commercial and educational bodies, like the American Hellenic Chambers of Commerce, the Association of Chief Executive Officers in Greece and the Academic Council of the Executive MBA of the Athens University of Economics and Business. He is driving the startup ecosystem initiatives, through supporting Elevate Greece, volunteering in JA, Corallia/ESA plans and of course the current egg - enter grow go | Mentoring Program.