Georgios Doukidis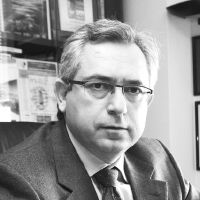 Georgios Doukidis
Professor, Department of Management Science and Technology, Athens University of Economics and Business (AUEB)
Georgios Doukidis
He is a Professor at the Department of Management Science and Technology, Athens University of Economics and Business (AUEB). He holds an MSc and a PhD from London School of Economics (LSE), where he also taught during the period 1982-1990. He was also a Visiting Professor at Brunel University and has taught at the Copenhagen Business School. He has published 15 books (8 with international publishers) and over 200 scientific papers, and has given lectures in 22 countries. 
He is the Director of the e-Business Research Centre (www.eltrun.org). With 25 researchers in its ranks, it is one of the largest European Business School research centre in e-Business, focusing on topics such as: customer-centric supply chain, interactive digital media, digital marketing, mbusiness, management and IT, e-commerce, digital innovation and entrepreneurship, retail and sales technologies, etc. In the 35 international projects he has headed, he has worked with more than 50 international companies, including Microsoft, Nokia, Unisys, Sema, Sonera, Manesman, Procter & Gamble, Oracle, Ericsson, Unilever, Barila, etc., and leading universities, such as LSE, Cambridge, INSEAD, St. Gallen, MIT, Cologne, Warwick, Esade, Erasmus, etc. 
In 2009 he received a European Case award (the only one awarded to a Greek professor in the 30 plus years of the Centre) for the case study on "Internet Enabled Collaborative Store Ordering" in the Knowledge, Information and Communication Systems Management category. He is the founder and heads the university student competition on Digital Innovation and New Entrepreneurship for e-Business (e-nnovation, www.ennovation.gr) and is the scientific advisor for the annual e-Business awards (www.evolutionawards.gr). In the past he has served as President of the New Economy Development Fund (TANEO), member of the National e-Commerce Committee, member of the committee tasked with authoring the national strategy for the Information Society and member of the Greece Innovates competition scientific committee.