Athanasios Exarchos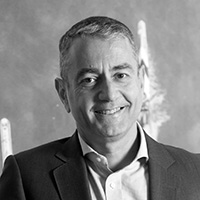 Athanasios Exarchos
CEO, Vantage Towers Greece.
Athanasios Exarchos
Mr Athanasios Exarchos is the CEO at Vantage Towers Greece, the new company established by Vodafone Greece and Wind Hellas.
In the past, he has served as Strategy Manager in the sales strategy team of Nokia at a European level. During his employment at Nokia, which he joined in 1998, he took on a number of leadership positions, including Director of Sales for the Mediterranean and Black Sea, and Strategy Manager for Europe and Latin America. He was a member of the Nokia Hellas strategic management team from 2003 and the President and Managing Director of Nokia Hellas from 2009 to 2020.
He started his career in 1990 from the Siemens R&D department and was a founding member of the department currently known as Nokia Technology Center Athens.
He holds a BSc in Computer Science and an MSc in System Design from the University of Manchester, Great Britain. He is a certified business coach and Project Management Professional.
In his free time he enjoys travelling, long-distance running, photography, coaching, mentoring and volunteering. He is married and has two children.