Manolis Alivizatos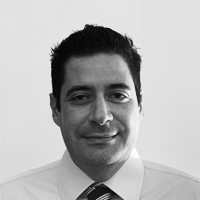 Manolis Alivizatos
Head of the Analytics, BI and Innovation at NTT DATA Greece.
Manolis Alivizatos
Manolis Alivizatos is an electrical and computer engineer (NTUA 2002) with almost 20 years of experience in research and development and software development on various fields (Applied Research, Defense and Aerospace, Marketing / Market Research, Network Monitoring, Health Sciences) as technical lead and project manager in large scale and innovative enterprise software solutions. Patented results of his doctoral thesis (DrEng, NTUA 2005) on data processing were adopted by the defense industry.
He was involved in various business ventures (2009-2014) as co-founder and managing partner of retail and EPC companies. Afterwards, he started investigating business opportunities in analytics and consulting tech companies on data management and advanced analytics (Statistics/ML). Since then (2014) he has worked as an executive of various companies, offering data-centric solutions to large clients.
In 2022 he took over as the head of the Analytics, BI and Innovation at NTT DATA Greece, and participates in the software development and the expansion of NTT DATA in the field of health data.