Maria Karavelaki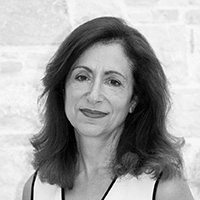 Maria Karavelaki
Founder of inte*learn, which develops innovative solutions in complex learning environments using cutting-edge technology.
Maria Karavelaki
Maria Karavelaki is considered a pioneer in the introduction of IT in Greek education. In 1989, along with George Papapanagiotou, she created inte*learn. After 29 years of a successful path in the Greek and Cypriot markets, the company continues to this day to develop innovative solutions in complex learning environments for children and adults, using cutting-edge technology. She makes the most of her long experience, building relationships of trust with her clients. 
She is a graduate of the Department of Mathematics, National and Kapodistrian University of Athens, and holds an MSc in Computer Assisted Learning from the University of Glasgow. She works on the educational design of integrated educational environments on any topic and for any educational level.
Having gained experience in research and development from the introduction of new information technologies in education, she has supported and managed many different projects involving the design and implementation of digital educational applications. She has worked with companies, universities, educational institutes, as well as the Ministries of Education of Greece and Cyprus.
The products and solutions developed by inter*learn with her contribution have been awarded multiple times in multimedia competitions. In 2017, at the annual Mobile Excellence Awards, the company got one of the highest scores among all categories. It won 1 out of the 4 main awards, as well as the Gold award in the Mobile Learning & Education Services category for the Logometro language assessment tool.
Always interested in new ideas and research in her field, Maria Karavelaki has followed and supported the efforts of young people, from the design of the prototype to the development of the commercial product.